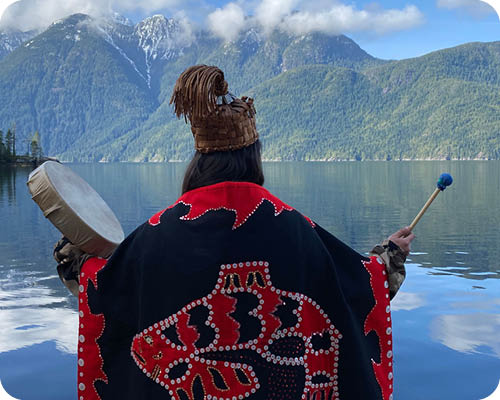 Welcome! ʔi:mot tətᶿ kʷənome, it's good to see you! Klahoose Wilderness Resort is Canada's newest Indigenous cultural experience. Klahoose Wilderness Resort is an authentic all-inclusive luxury eco-resort in the British Columbia coastal wilderness of the Klahoose people. A resort that reflects the Klahoose traditional values and offers  immersive exploration into the pristine region of Desolation Sound, rich in diverse wilderness, cultural significance and wildlife, including grizzly bear viewing tours in Toba Inlet.
​Only accessible by boat or seaplane, the off-grid resort is located within the heart of Desolation Sound. Klahoose Wilderness Resort resides upon Homfray Channel between the Coast Mountain peaks of British Columbia's Sunshine Coast and the Salish Sea and the edge of the Great Bear Rainforest. 
The ancient voices echoed in the traditional Klahoose greeting welcome newly arrived guests with a casual gathering on the lodge verandah. The unparalleled visit is about to begin. One deep breath of the pure, energizing forest air has life's worries vanishing instantly. Senses suddenly awaken upon hearing the distant call of a majestic eagle as it soars above a pod of nearby orcas, whose distinct dorsal fins break the water's calm surface. Aligned with honouring and celebrating local culture, sustainability, conservation, wildlife, photography and outdoor interests, Klahoose Wilderness Resort offers unique voyages showcased within the Designated Travel Collection of Canadian Geographic Adventures.
You are ready to embrace the natural and the supernatural spirits of this land and its People. You are ready to "Answer the Call."
Related stories from Canadian Geographic