Can Geo Talks is a dynamic speaker series featuring some of the most fascinating individuals working in the fields of geography, exploration, environmental science, journalism, history and more. Past presenters include world-renowned cave diver and Royal Canadian Geographical Society Explorer-in-Residence Jill Heinerth, actor and comedian Sir Michael Palin, award-winning photographer Michelle Valberg, and bestselling author and RCGS Westaway Explorer-in-Residence Adam Shoalts. During the COVID-19 pandemic, Can Geo Talks went virtual, with livestreamed presentations from expert ornithologist Dr. David Bird, author and journalist J.B. MacKinnon, biologist Suzanne Simard, historian Margaret MacMillan and more. 
We are excited to welcome audiences back to Canada's Centre for Geography and Exploration for in-person talks. Upcoming events will be posted here. Unless otherwise specified, all events will take place at 50 Sussex Drive in Ottawa.
Announcing our fall 2023 Can Geo Talks!
Join us for three fascinating, FREE Can Geo Talks this fall at 50 Sussex Drive, Canada's Centre for Geography and Exploration. All events are pay-what-you-can; your donation helps the Royal Canadian Geographical Society deliver more insightful public programming to help make Canada better known to Canadians and the world. Scroll down to view and register for our fall events. 
Thursday, September 21 — Karen Pinchin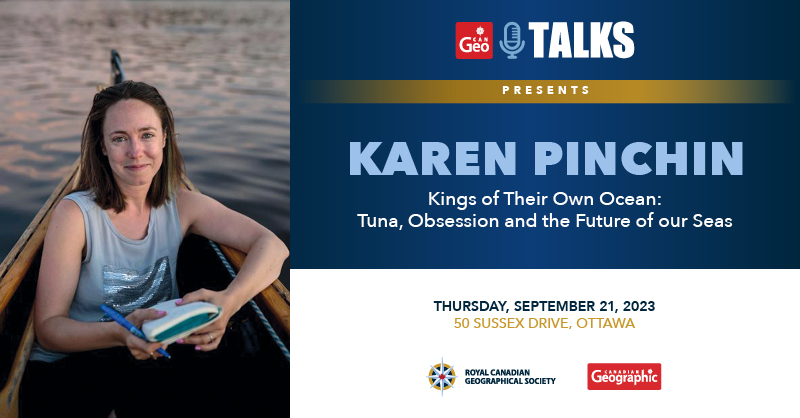 Join Canadian Geographic as journalist Karen Pinchin shares behind-the-scenes insights from the reporting of her book, Kings of Their Own Ocean.
In 2004, a young, 642-pound bluefin tuna is caught, tagged by a prickly and iconoclastic New England fisherman, Al Anderson—and then is released. Fourteen years later, the fish's life ends in Portugal, her destiny to be served on sushi platters in a high-end Madrid restaurant. But thanks to Al's tag, the tuna's remarkable story can be told, and, in honour of her cross-Atlantic journey, she will be given a name: Amelia. In Kings of Their Own Ocean, Karen Pinchin weaves a tale with elements of true crime, biography, investigative reporting, activism, ecology, business, and food culture. Spanning the early 1950s to the present, beginning with the rise in demand for Atlantic bluefin tuna in the northeastern United States, the narrative establishes the origins of tuna research and science, as well as the Atlantic fishing industry and its larger-than-life personalities. Copies of the book will be available for purchase.
About Karen Pinchin
Karen Pinchin is a veteran journalist and trained culinary school graduate. Most recently, she was the Tow Fellow at PBS FRONTLINE. In 2019, she graduated from Columbia's Journalism School with a Master of Arts in science journalism, and won the school's Lynton Fellowship for Book Writing. Her work has appeared in Canadian Geographic, The Globe and Mail, National Geographic, Modern Farmer, Newsweek International, and The DEEP, among others. She lives (and fishes) in Halifax, Nova Scotia with her husband and son.
October 25 – Michael Barkham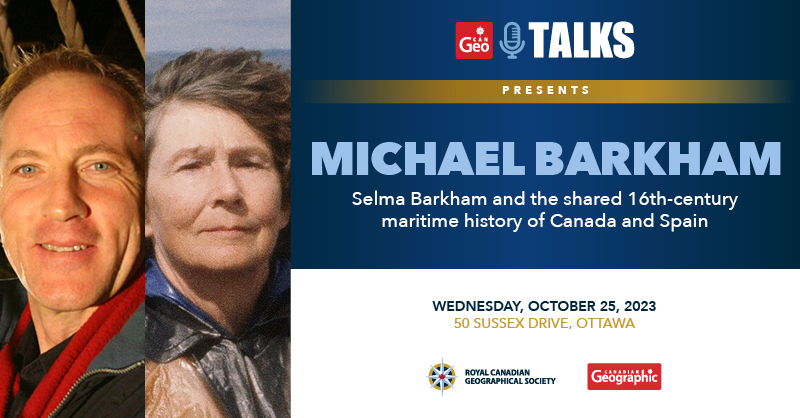 Dr. Michael Barkham tells the remarkable inside story of the pioneering work of historian and geographer Selma Barkham.
In 1980, Selma Barkham (née Huxley) became the first woman to be awarded the Royal Canadian Geographical Society's Gold Medal, for having filled "a great gap" in the history of Canada between Cartier and Champlain. In 1972, as an independent historian and widow with four children, she moved to Spain's Basque Country to research in archives the almost unknown Basque fisheries in Atlantic Canada in the 16th and 17th centuries. Over the years, in a veritable detective search, she made groundbreaking archival, historical and archaeological discoveries, which allowed her to reveal and reconstruct that forgotten chapter of history. In particular, she revealed a 16th-century Basque whaling industry — the world's first — in southern Labrador and Quebec, including their whaling ports and archaeological remains of their bases. Barkham's work "changed the maritime history of Canada and Spain." In 2013, Red Bay, Labrador, one of the archaeological sites she discovered, was declared a World Heritage Site by UNESCO. 
About Michael Barkham
At age 18, Michael Barkham was a member of Selma Barkham's first expedition to Labrador (1977) for the identification of 16th-century Basque whaling stations. He holds a B.A. (University Medal for Academic Excellence) and an M.A. from Memorial University of Newfoundland, and a PhD in Geography from the University of Cambridge (Commonwealth Scholarship). A specialist in the maritime history of the Basque Country and Canada (16th-17th centuries), he is the author of many academic publications and has participated in numerous international conferences as well as documentaries and TV and radio programs. He has been a consultant to the Naval Museum of San Sebastian, the National Maritime Museum (Greenwich), the Province of Newfoundland and Labrador, and the National Historic Site of Red Bay, Labrador. He was historical advisor for Parks Canada's report presenting Red Bay N.H.S. to UNESCO's World Heritage Committee.
November 29 — Adam Shoalts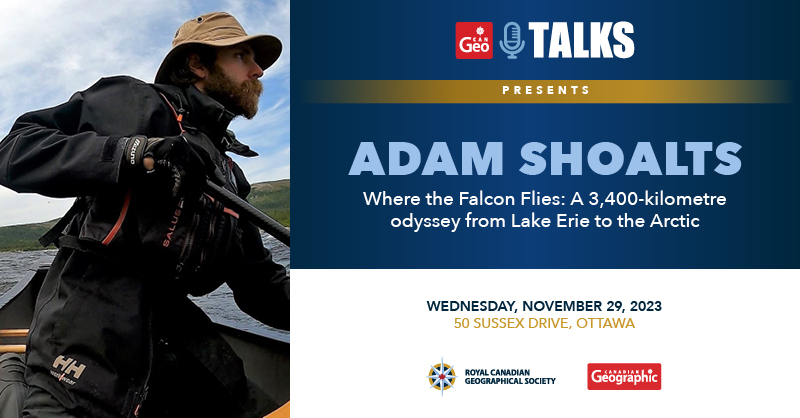 One of Canada's greatest living explorers shares his 3,400-kilometre odyssey from Lake Erie to the Arctic.
Looking out his porch window one April morning in southern Ontario near Lake Erie, RCGS Westaway Explorer-in-Residence Adam Shoalts spotted a majestic peregrine falcon flying over the neighbouring cornfield. Falcons migrate each spring from southernmost Canada to remote Arctic nesting grounds. Grabbing a backpack and his canoe, Shoalts resolved to follow the falcons and embarked on a 3,400-kilometre journey from Lake Erie's Long Point to Kangiqsualujjuaq in the Arctic. The journey took three months and spanned five different ecosystems between the south and north coasts of Canada. Join Canadian Geographic as Adam shares highlights from the journey, including huge storms on the Great Lakes, portaging around Niagara Falls, trying not to get run over by commercial freighters, reaching saltwater on the Gulf of St. Lawrence, bushwhacking in Labrador's wilderness, canoeing alone in polar bear territory, and detouring on foot to explore the remote Torngat Mountains, where falcons nest. Copies of Adam's new book about the expedition, Where the Falcon Flies, will be available for purchase.
About Adam Shoalts
Declared one of the "greatest living explorers" by Canadian Geographic, and named "Canada's Indiana Jones" by the Toronto Star, Adam Shoalts is a professional adventurer and the author of four national bestselling books.
His career has included mapping rivers, leading expeditions for the Royal Canadian Geographical Society as Westaway Explorer-in-Residence, archaeological digs, tracking endangered species, and completing a nearly 4,000-kilometre solo journey across Canada's Arctic. On his expeditions he sometimes goes months without seeing another person. In 2022, he canoed and hiked from southern Canada to the Arctic.
Browse photos from past events