Can Geo Talks is a dynamic speaker series featuring some of the most fascinating individuals working in the fields of geography, exploration, environmental science, journalism, history and more. Past presenters include world-renowned cave diver and Royal Canadian Geographical Society Explorer-in-Residence Jill Heinerth, actor and comedian Sir Michael Palin, award-winning photographer Michelle Valberg, and bestselling author and RCGS Westaway Explorer-in-Residence Adam Shoalts. During the COVID-19 pandemic, Can Geo Talks went virtual, with livestreamed presentations from expert ornithologist Dr. David Bird, author and journalist J.B. MacKinnon, biologist Suzanne Simard, historian Margaret MacMillan and more. 
We are excited to welcome audiences back to Canada's Centre for Geography and Exploration for in-person talks. Upcoming events will be posted here. Unless otherwise specified, all events will take place at 50 Sussex Drive in Ottawa.
Mensun Bound: The discovery of Endurance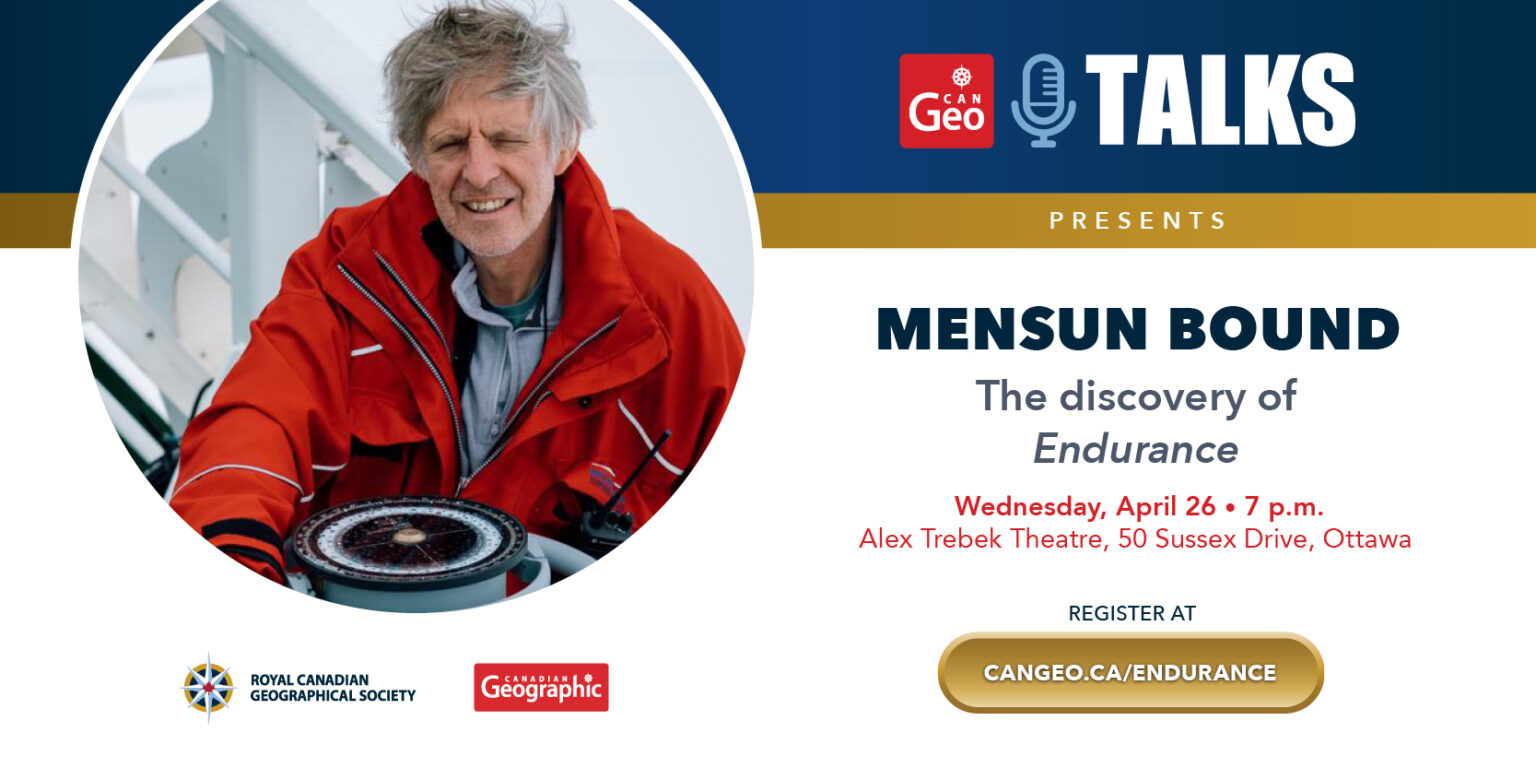 Join Canadian Geographic as British Maritime archaeologist Mensun Bound shares insider insights from the search for Sir Ernest Shackleton's lost ship Endurance in Antarctica. 
Born in the Falkland Islands, Mensun Bound studied in New York before moving to Oxford University where he continued his studies at Lincoln College and then St. Catherine's College before finally becoming the Triton Fellow in Maritime Archaeology at St. Peter's College. He is a Fellow of the Royal Geographical Society and Explorer's Club. Known as 'Indiana Jones of the Deep,' Bound has conducted wreck surveys and excavations all over the world in a career that spanned over 40 years. In 1981, he excavated one of the oldest known shipwrecks (an Etruscan ship from 600 BC) and, in 1997, he used saturation diving methods in the South China Sea off Vietnam to carry out the deepest hands-on shipwreck excavation there has ever been. Twelve museums around the globe hold permanent displays of artefacts raised by Bound. 
In 2019, Bound stunned the world with his discovery of Admiral von Spee's flagship, Scharnhorst, which had been lost in battle during the First World War. That same year Bound was Director of Exploration for the first search to find Shackleton's Endurance in Antarctica, which ended in failure when their Autonomous Underwater Vehicle (AUV) disappeared without a trace. In 2022, the search resumed with Bound in the same role, this time under the auspices of the Falklands Maritime Heritage Trust, of which Bound is a Trustee. On March 5, the Endurance was found at a depth of 3,000 metres under the ice and, as predicted by Bound, it was upright, largely intact, proud of the seabed and in an excellent state of preservation.
Bound's journey to find the Endurance, the lost ship of Sir Ernest Shackleton's Imperial Trans-Antarctic Expedition, is chronicled in his latest book, The Ship Beneath the Ice: The Discovery of Shackleton's Endurance. 
Admission for this event is pay-what-you-can. Your donation helps the Royal Canadian Geographical Society deliver more insightful public programming like this!  
Replay our virtual series
Browse photos from past events