Can Geo Talks is a dynamic speaker series featuring some of the most fascinating individuals working in the fields of geography, exploration, environmental science, journalism, history and more. Past presenters include world-renowned cave diver and Royal Canadian Geographical Society Explorer-in-Residence Jill Heinerth, actor and comedian Sir Michael Palin, award-winning photographer Michelle Valberg, and bestselling author and RCGS Westaway Explorer-in-Residence Adam Shoalts. During the COVID-19 pandemic, Can Geo Talks went virtual, with livestreamed presentations from expert ornithologist Dr. David Bird, author and journalist J.B. MacKinnon, biologist Suzanne Simard, historian Margaret MacMillan and more. 
We are excited to welcome audiences back to Canada's Centre for Geography and Exploration for in-person talks. Upcoming events will be posted here. Unless otherwise specified, all events will take place at 50 Sussex Drive in Ottawa.
Whit Fraser: Witnessing history in the North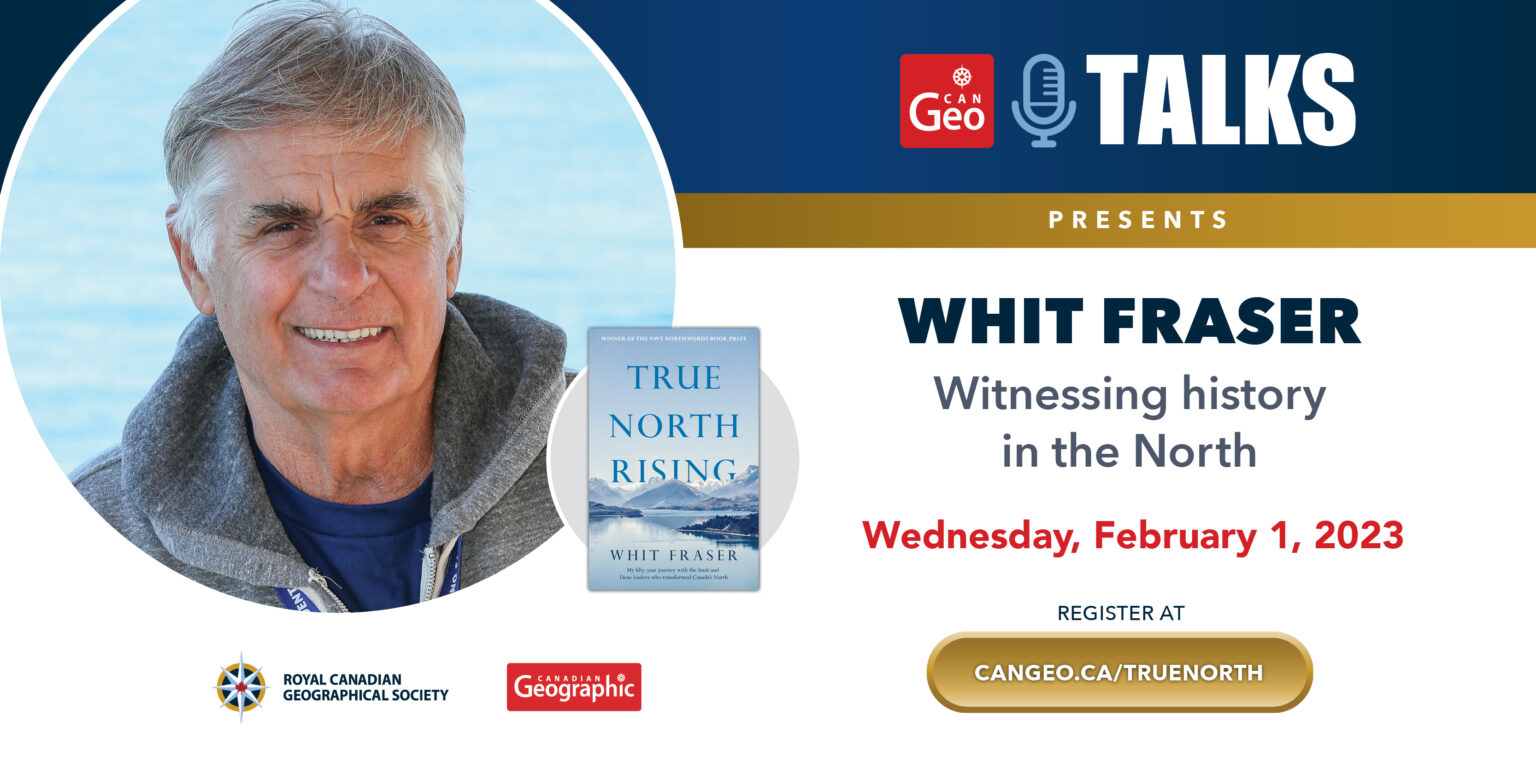 Join Canadian Geographic for a special evening with Whit Fraser celebrating the re-issue of his memoir, True North Rising.
Whit Fraser went north to Frobisher Bay (now Iqaluit, Nunavut) in 1967 to work for CBC's northern service. For the next 32 years he travelled to every community in Canada's three northern territories, reporting on the historic events that shaped today's North, including the Mackenzie Valley Pipeline Inquiry, the negotiations that enshrined Indigenous rights in the Canadian constitution, and the progress of land claims from the initial demands of Dene and Inuit leaders through to the ceremony that inaugurated the new territory of Nunavut in 1999, which he co-hosted as his last broadcast for the CBC. Fraser has also served as the first chairman of the Canadian Polar Commission and as the executive director of the national Inuit organization, the Inuit Tapiriit Kanatami. He is married to Canada's first Indigenous Governor General, Mary Simon. His memoir, True North Rising, won the NWT Northwords Book Prize in 2019.
About the book: In True North Rising, Whit Fraser delivers a smart, touching and astute living history of five decades that transformed the North, a span he witnessed first as a longtime CBC reporter and then through his friendships and his work with Dene and Inuit activists and leaders. His vivid portraits of groundbreakers such as Abe Okpik, Jose Kusugak, Stephen Kakfwi, Marie Wilson, John Amagoalik, Tagak Curley, and his own wife, Mary Simon, bring home their truly historic achievements, but they also give us a privileged glimpse of who they are, and who Whit Fraser is. He may have begun as a know-nothing reporter from the south, but he soon fell in love with the North, and his memoir is a testament to more than fifty years of commitment to its people.
Admission for this event is pay-what-you-can. Your donations help us to deliver more geographical programming in Ottawa and across Canada  
Replay our virtual series
Browse photos from past events