Can Geo Talks is a dynamic speaker series featuring some of the most fascinating individuals working in the fields of geography, exploration, environmental science, journalism, history and more. Past presenters include world-renowned cave diver and Royal Canadian Geographical Society Explorer-in-Residence Jill Heinerth, actor and comedian Sir Michael Palin, award-winning photographer Michelle Valberg, and bestselling author and RCGS Westaway Explorer-in-Residence Adam Shoalts. During the COVID-19 pandemic, Can Geo Talks went virtual, with livestreamed presentations from expert ornithologist Dr. David Bird, author and journalist J.B. MacKinnon, biologist Suzanne Simard, historian Margaret MacMillan and more. 
We are excited to welcome audiences back to Canada's Centre for Geography and Exploration for in-person talks. Upcoming events will be posted here. Unless otherwise specified, all events will take place at 50 Sussex Drive in Ottawa.
Christian Stenner and Kathleen Graham: Descent into fire and ice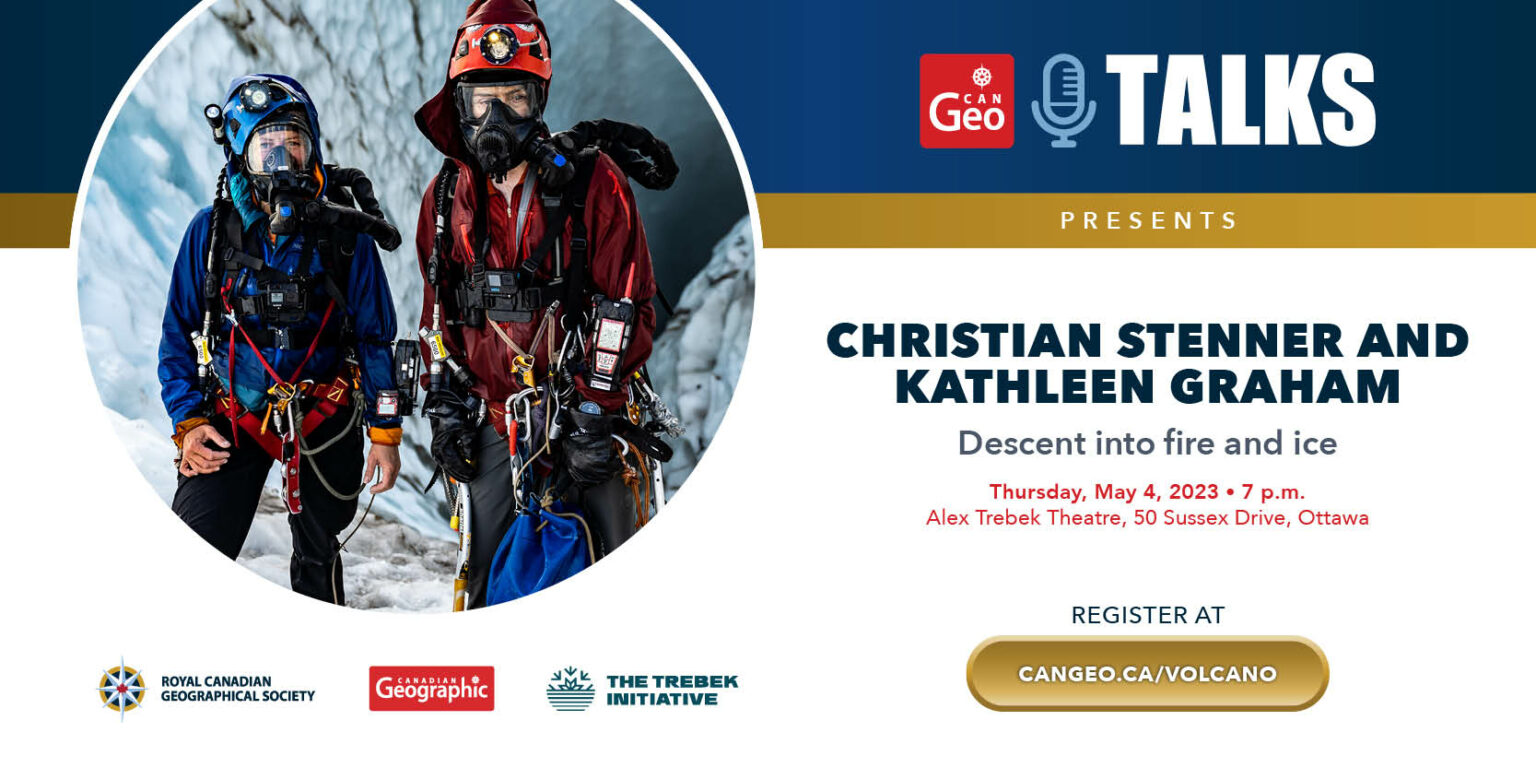 Join Canadian Geographic for this fascinating look inside Canada's only known active volcano.
Mount Meager (Qw?elqw?elústen), British Columbia, has been called the most dangerous mountain in Canada. As Canada's only known active volcano, it could significantly impact nearby populated communities. Understanding its inner workings could help us assess the potential hazards to thousands of people and even help us in the search for life on other planets.
A recent expedition involving a diverse team of engineers, scientists, and explorers undertook the task of revealing the mountain's secrets. Christian Stenner and Kathleen Graham navigated through dangerous volcanic gasses, underneath a glacier, on a mission to capture the first measurements from a Canadian volcano. The volcano was also used to test the NASA-Jet Propulsion Laboratory Exobiology Extant Life Surveyor (EELS), a robotic snake concept that will be capable of exploring and delivering scientific payloads to ocean worlds such as Saturn's moon, Enceladus. Meanwhile, samples of ice, snow, and sediment collected from this toxic environment may reveal incredibly unique microbial life.
About Christian and Kathleen: 
Christian Stenner has been an explorer for over 15 years. He has explored the world's longest and deepest glaciovolcanic cave systems in the world, at the summit of Mt. Rainier and within the crater of Mt. St. Helens. He has appeared on Discovery Channel, CBC's The Nature of Things, in National Geographic, and regularly writes for Canadian Geographic. He is a Fellow of the Royal Canadian Geographical Society.
Kathleen Graham has been exploring caves for 16 years. She connected two caves to establish Canada's deepest cave, and then beat that record by diving into a lake at the bottom of another cave. She also explored the glaciovolcanic caves of Mts. Rainier and St. Helens and used her cave diving experience to prepare for the toxic gas environment of Mt. Meager. She has appeared in multiple National Geographic articles and is a Fellow of the Royal Canadian Geographical Society. 
Admission for this event is pay-what-you-can. Your donation helps the Society to offer more insightful public programming like this!
Replay our virtual series
Browse photos from past events