Challenge 5: Holidays
The holidays are a time for family and friends to gather and spend quality time together, and to get away to warmer parts of the world for some much needed rest and relaxation. This holiday season we challenged our five families to give Mother Earth the gift that keeps on giving by decarbonizing their family festivities and winter vacations.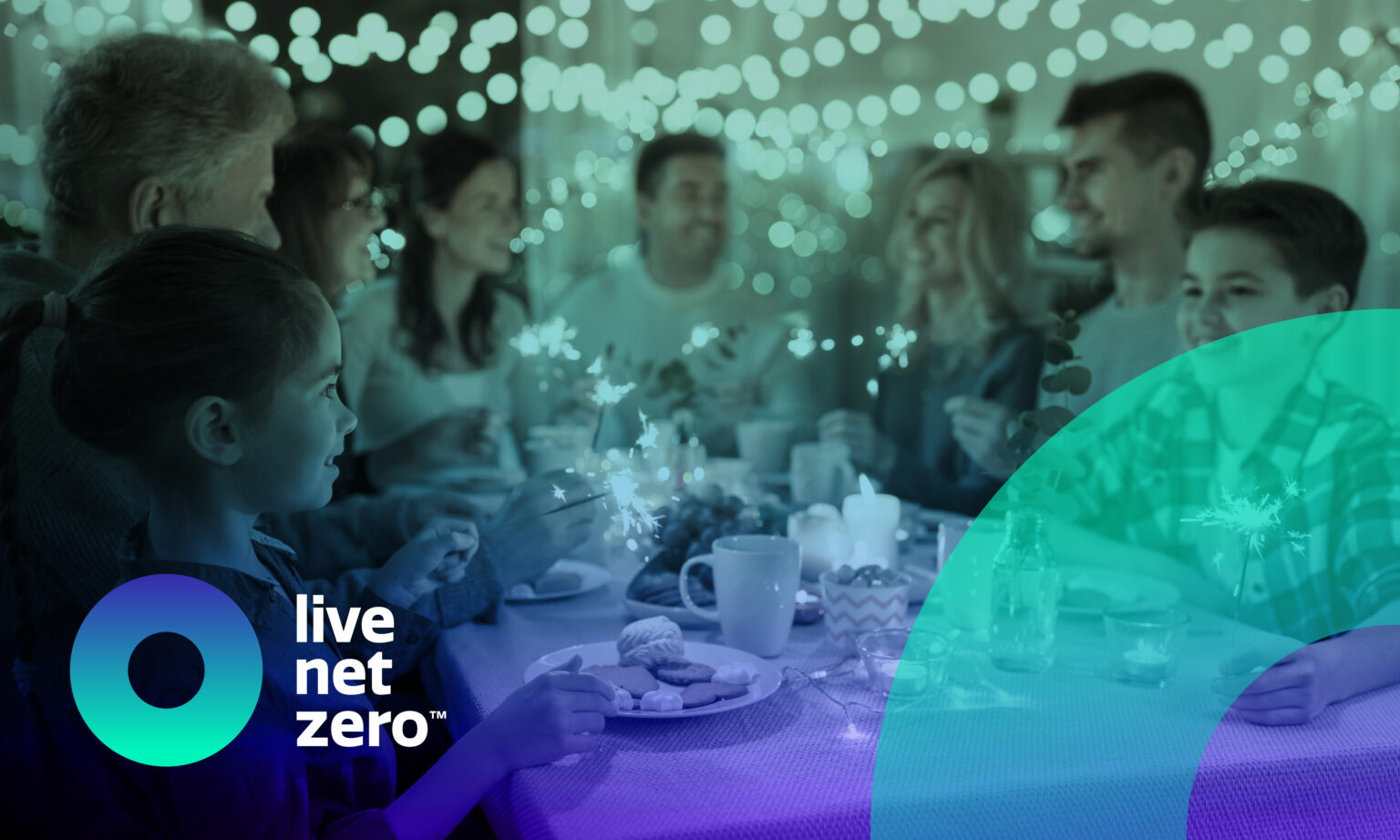 Tame your travel emissions and give greener gifts
The winter season brings many religious and cultural celebrations, visits with far-away family and friends, and dreams of escaping the Canadian deep freeze to warmer climes. It can also significantly add to your carbon footprint beyond just running the furnace to stay cozy and having to keep lights on longer because of the shorter days.
Whether transporting people or goods, the aviation industry has a large impact on global emissions, accounting for 2.8% of CO2 emissions from fossil fuel combustion but because aviation emissions occur higher in the atmosphere they have an amplified effect on global warming. Like emissions benefits of increased energy efficiency within your home being offset by more things using more energy, a regular reduction in the energy intensity of flights over the past 20 years has been countered by continuous growth in the commercial aviation industry over the same time.
Get the facts
How many kilograms of carbon are in a cup of eggnog?
The average serving of eggnog has a carbon footprint of 425 g CO2 equivalent – about the same as driving a gasoline vehicle 2 km.
Air travel sends household carbon footprints soaring
Air travel is the discretionary action with the largest impact on your personal carbon footprint. A round trip flight from Vancouver to Toronto adds nearly 500 kg of CO2 to your footprint, or 1/8 of the average Canadian's individual household emissions of 4.1 tonnes of CO2. The International Energy Agency (iea) projects aviation emissions from increasing passenger and cargo flights will reach 1,147 million tonnes of CO2 by 2030 under current climate change pledges, far above the 783 million tonnes required to meet their net zero scenario.
Flying is one area in which setting a household carbon budget is quite valuable. Planning for a big European family vacation in a couple years? Maybe the emissions cost of that seat-sale for a quick weekend getaway is better banked and spent on the larger trip. Or you can opt for travel options closer to home, using a less carbon intensive form of transportation.
The household challenge
During the Holidays challenge, households planned holiday season festivities or holiday vacations to see where their carbon emissions will add up and made decisions to reduce them. If flying was the only option, they considered its purpose. Could  family gatherings happen with less air travel? If not, could family flights – sometimes called "love miles" – replace plans for tourist trips? When shopping for gifts, they explored greener options, considered how they are shipped, and chose options that are useful to the recipient and have longer lifecycles. 
See how they did…

Holiday tips for your household
While the energy intensity of commercial aviation has decreased 2.8% per year on average from 2000 to 2020 due to operational and technical efficiencies, flight activity increased by 250% (5%/year), and CO2 emissions rose by 50% (2% per year).
Air Travel
Be grounded: If practical, choose lower emission travel options like driving with additional passengers in your vehicle, or taking a train or motorcoach (bus).
Be selective: If you need to fly, use your carbon budget for important family visits instead of leisure trips or long-haul vacation destinations.
Be direct: Choose direct flights when available to avoid high emissions during additional take-offs and landings, and minimize your overall hours in the air.
Be modest: Fly economy instead of business or first class. Premium seats have more legroom and personal space so their tickets carry a larger carbon footprint.
Canada's retail sector is responsible for about 10.5% of our country's greenhouse gas emissions, with most related to the energy used to make the products and throughout the supply chain.
Top 3 gifts for Mother Earth? Lower emissions, lower emissions, and lower emissions
Be a conscious gift giver: Carefully choose gifts that people can put to good use to maximize their lifecycle and be less wasteful.
Strength in numbers: Pool resources with family members or friends to give one more meaningful gift rather than several smaller more "disposable" gifts.
Don't buy new: Give handmade or secondhand gifts.
Reconsider consumables: Experiences, memberships, and digital subscriptions are an alternative to giving more "things".
Wrap up wasteful wrapping: Reusable cloth bags, or Furoshiki – the art of Japanese fabric wrapping – are much more environmentally friendly than printed wrapping paper, gift bags, and ribbons and bows that are either difficult to recycle, or in most cases, impossible to recycle.
Examine your shopping and shipping: To help reduce your shipping footprint, shop local, opt for longer delivery times, and group orders instead of receiving several separate deliveries.
Avoid double-shipping: Have online orders shipped directly to the gift recipient's household to eliminate additional shipping-related emissions.
Whether a holiday feast or everyday meals, drinks, and snacks, everything we eat comes with its own carbon footprint.
Adopt a lower carbon diet
Let's talk turkey: Serving a vegan nut roast instead of turkey, preparing meatless stuffing, and replacing other meat ingredients with vegetarian alternatives can reduce the carbon footprint of a traditional Christmas dinner for six by around 50%.
Eat less red meat: Simply eating chicken instead of beef and lamb cuts 1/4 of diet-related carbon emissions for the average omnivore.
All beverages are CARBONated: A 750 ml bottle of red wine accounts for approximately 1.14 kg of CO2 which is around 200 g per 125 ml serving (5 oz). Water is your best non-alcohol option for a lower carbon beverage with soft drinks or orange juice offering only minor reductions.
Measure your food footprint: You can check out the carbon footprint of many foods using calculators such as this one from the Financial Times.
Another serving of food footprint information: Check out the Live Net Zero Bonus Thanksgiving Challenge to learn more about the carbon footprint of food and food waste, and ways to reduce yours.
Did you know?
Flying 1st Class vs Economy increases your personal carbon footprint for the same flight by approximately 4 times.
CO2 makes up approximately 70% of aircraft exhaust, water vapour 30%, and all other emissions account for less than 1%.
A cruise ship vacation for a family of 4 can have up to twice the carbon footprint as a comparable destination holiday on the beach.
Within 6 months, only 1% of everything the average person buys is still in use, the other 99% has been discarded. – Zero Waste Canada
Get yourself to zero
To help your own household get closer to a zero-carbon lifestyle, see how our five families navigated unique journeys to net zero and learn from their shared their personal tips and tricks.