RCGS Ambassador: Ken McGoogan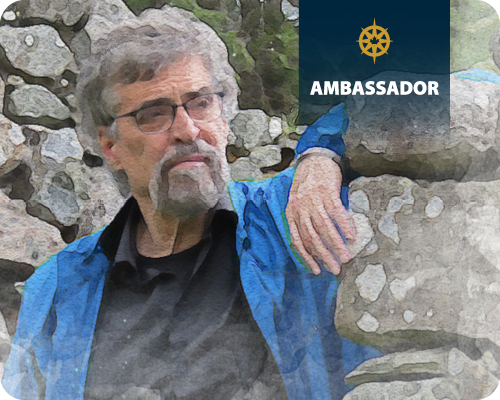 Ken McGoogan is a globe-trotting, history-hunting storyteller who survived shipwreck off Dar es Salaam, chased the ghost of Jane Lady Franklin from Russell Square to Van Diemen's Land, and placed a John Rae memorial plaque in the High Arctic. Ken has published fifteen books – mostly nonfiction narratives, but also novels and memoirs. His best-selling titles include Dead Reckoning, Celtic Lightning, Fatal Passage, 50 Canadians Who Changed the World, Lady Franklin's Revenge, and Flight of the Highlanders.
In 1998, Ken landed a fellowship that took him to the University of Cambridge  for three months. There he conceived his biography of John Rae, Fatal Passage, which gave rise to a string of books and a series of prizes, among them the Pierre Berton Award for Popular History, the University of British Columbia Medal for Canadian Biography, the Canadian Authors' Association History Award, the Writers' Trust Drainie-Taylor Biography Prize, and an American Christopher Award for "a work of artistic excellence that affirms the highest values of the human spirit." 
Ken has been active with the RCGS since 2008, when he began a four-year stint on the expedition committee. Over the years, he has published numerous pieces in Canadian Geographic magazine, among them a commentary on the discovery of the long-lost Franklin-ship Erebus and an excerpt from his book Flight of the Highlanders. He was a "featured fellow" in October 2015. In September 2017, when leading RCGS fellow Joseph Frey had to withdraw from a Northwest Passage assignment, Ken happily jumped into the breach, did the voyage, and wrote a long feature for Britain's Geographical magazine. In May 2018, with the support of the Royal Scottish Geographical Society, Ken did a whirlwind four-city tour on behalf of the RCGS. He flew to Glasgow, rented a car, and gave presentations in Dumfries, Galashiels, Ayr, and Helensburgh. In December 2019, he was thrilled to give a talk at RCGS headquarters in Ottawa, where 200 people turned up and he signed a whack of books.