RCGS Ambassador: Brian Hodgson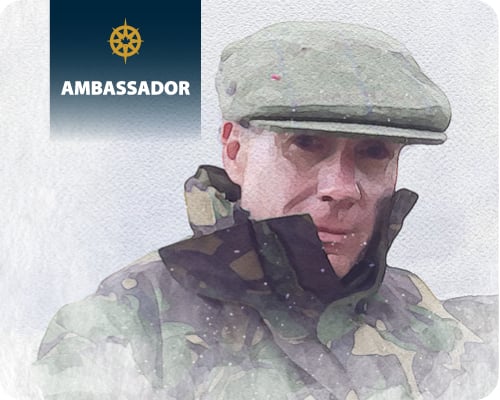 A native Albertan, Brian Hodgson was an Intelligence Officer with the Canadian Security Intelligence Service (CSIS) fox six years serving in the Service's Counter Espionage, Counter Terrorism and Security Screening Branches. He left CSIS 1992 to become the Sergeant-at-Arms and Director of Visitor, Ceremonial and Security Services Legislative Assembly of Alberta.  
Lieutenant-Colonel Hodgson commanded his regiment, which is split amongst Edmonton, Medicine Hat, and Lethbridge from 1996 to 2000. In 2004 he volunteered to deploy to Afghanistan. 
In 2008 he was elected as a Fellow of the Royal Canadian Geographical Society and in 2009 was elected as a Governor (board member). In 2020, he was awarded the Society's Joseph-Elzéar Bernier Medal. He now sits on the RCGS Nominating Committee. Brian also has received the Canada 125 Medal, Queen Elizabeth's Golden and Diamond Jubilee Medals and the Alberta Centennial Medal.
His interests are varied and include polo, cycling, travel, skiing (he competed in the oldest and longest amateur downhill ski race in the world, the Inferno, at Murren, Switzerland), fly-fishing, bagpipes, reading and anything to do with horses and the family ranch. He holds a skeleton sled competitors' licence and has raced at the Calgary Olympic Park, at the Cresta Run, St. Moritz in Switzerland, and has represented his regiment in international show jumping competitions in the U.K. on numerous occasions. Brian is also a freelance writer. His numerous articles and book reviews have been published in the National Post, the Edmonton Journal, and the Calgary Herald.
Travel with Brian Hodgson