Let's start a movement across Canada.
Mini-forests are "transforming dusty highway shoulders, parking lots, schoolyards and junkyards worldwide. Tiny forests have been planted across Europe, in Africa, throughout Asia and in South America, Russia and the Middle East. India has hundreds, and Japan, where it all began, has thousands." (Cara Buckley, New York Times, August 24, 2023 Tiny Forests with Big Benefits.) Given this global momentum and the outsized benefits of these small but dense plantings, let's start a mini-forest movement across Canada.
Conference and Reception
October 19, 2023
50 Sussex Drive
Main Gallery
Agenda
8:45 – 9:00 a.m. | Arrive and gather 
9:00 – 9:20 a.m. | Welcome
Welcome to the RCGS and territory of the Kitigan Zibi Anishinabeg First Nation and opening prayer/blessing.
9:30 – 10:15 a.m. | Why Forests Matter (Armchair Interview).
Claudette Commanda, Honorary Ottawa Riverkeeper, Chancellor of the University of Ottawa and Elder of the Kitigan Zibi Anishinabeg First Nation will discuss the importance of forests in the Ottawa valley and the role they have played and need to play in reconciliation and education to help heal people and the planet. 
10:45 – 11:45 a.m.| A Critical Role for Mini Forests (Panel).
Aran will introduce the Network of Nature to open the session. Emphasis will be on the introduction of the Mini-Forest Methodology and the science and performance of Mini Forests. Speakers include: Jenn McCallum, Green Communities Canada, Heather Schibli, Dougan and Associates, and Charlene Williams, Vineland Research and Innovation Centre.
11:45 – 12:30 p.m. |Funding Mini Forests, Current Funding Envelopes and Future Needs (Panel).
Discussion will focus on funding opportunities that can accelerate the deployment of Mini Forests in Canada. Speakers include Emelie Roberge, NRCan, Carolyn Scotchmer, TD Friends of the Environment Foundation, Maggie Ballantyne, Greenbelt Foundation.
1:30 – 2:15 p.m. | Mini-Forest Supply Chain (Panel).
Critical bottlenecks that could limit the speed and scale of Mini Forests in Canada. Speakers include: Blaine Pearson, Wilder Climate Solutions, Maureen Jacques, Ferguson Tree Nursery, Stephanie McNeely, Forêt Capitale Forest.
2:15 – 3:00 p.m. | Assisted Migration (Quest Speaker
and Armchair Interview).
Should Mini Forests deploy what could be considered
a controversial method, including the migration of genetics as well as 'near' native species? Speaker: Ken Farr, CFS NRCan. 
3:30 – 4:15 p.m. | A Critical Role for Technology and Citizen Science: Monitoring Mini-Forests and Engaging Stakeholders (Panel).
What role can technology and measurement play in supplying evidence of Mini Forest performance and keeping communities involved with their Forests over time. Speakers Include Kat Bruce, founder Nature Metrics, Steven Hill, Dougan & Associates and Julian Caspari, Accenture.
4:45 – 5:00 p.m. | Speed, Scale and Onwards (Armchair discussion).
A discussion of the importance of speed and scale and how best to achieve it in light of the day's dialogue. Bruce and Aran will then discuss the role of the Challenge Process and why it is important to building out the future of Mini-Forests and the Network of Nature partners.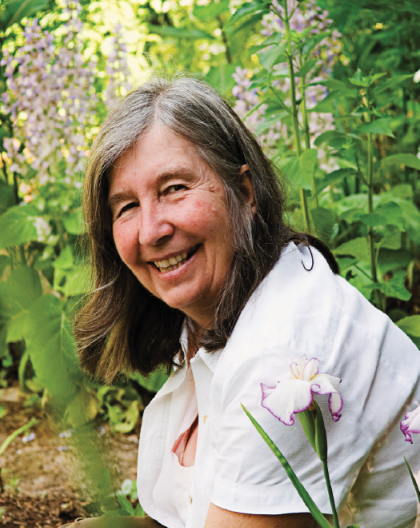 About Prof. Diana Beresford-Kroeger, FRCGS
A member of the College of Fellows of the Royal Canadian Geographical Society (2013), Professor Beresford-Kroeger is a botanist, biochemist, polymath and author as well as an outstanding champion of native plant species, including, most particularly, native trees and forests. She is the author of Arboretum America: A Philosophy of the Forest, The Global Forest: Forty Ways Trees Can Save Us and To Speak for The Trees: My Life's Journey from Ancient Celtic Wisdom to a Healing Vision of the Forest, among other works. The Royal Canadian Geographical Society will honour her for her lifetime of advocacy for forests.