RCGS Ambassador: Abi Hayward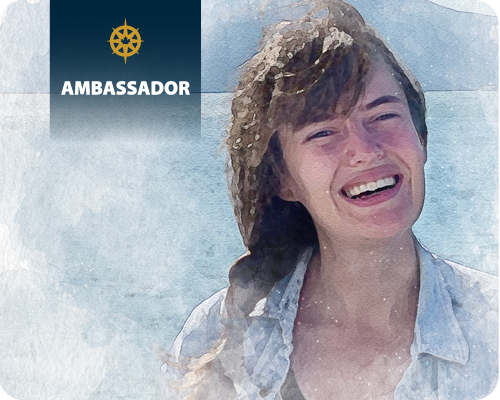 Abi Hayward is an award-winning journalist and associate editor at Canadian Geographic magazine. Her writing has appeared in Canadian Geographic, The Walrus, The Tyee and The Guardian.
Abi writes about science, society, the sea, and everything in between. She grew from the limestone of Yorkshire, England, up towards rain-swollen clouds, cultivating a healthy appreciation of the sun — and an eye for stories untold. Abi followed a fascination with science first to Sheffield, England, to pursue a BSc in Zoology. But after studying the behaviour of creatures from pufferfish to hermit crabs, she realized that she was less a scientist than a writer.
She pursued this calling across the Atlantic Ocean, to the western side of Canada, where rainclouds cast a familiar grey glow over a rugged panorama of sea and sky. In Vancouver, B.C., she graduated with a master's degree in journalism. Abi's journalism has taken her from the coastline of B.C. to the shores of Senegal and The Gambia. She has covered stories from beachcombing and sea sponges to a global investigation into the trade of fishmeal — the latter in collaboration with NBC News and the Global Reporting Program. The project received several awards, as well as nominations from the Digital Publishing Awards, Emerge Media, One World Media, the Online Journalism Awards, and the Canadian Association of Journalists.
Abi now lives in Ottawa and enjoys collaborating with colleagues, editors, writers, cartographers, illustrators and knowledge keepers as part of her role at Canadian Geographic. She loves the land we call Canada — and helping to tell its stories to Canadians and the world.