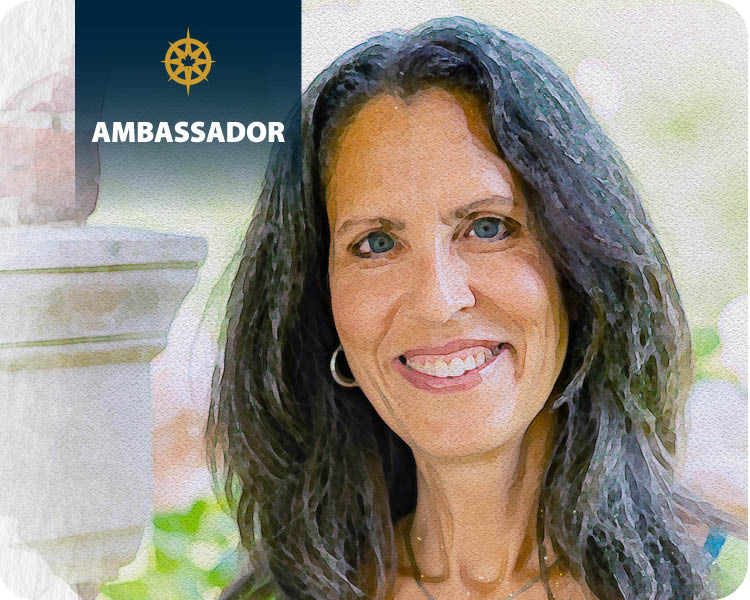 Indira Bhatnagar Feustel is an RCGS Fellow and a dual US/Canadian citizen. She has had a 27-year career as a medical speech-language pathologist (SLP). Indira is a passionate advocate in the areas of patient advocacy, communication, travel, heart health, fitness, mental health, and wellness.
Having grown up in Cornwall, Ontario, Indira graduated with her B.Sc. in psychology from McGill University in Montreal and her M.S. in Speech-Language Pathology from Purdue University in W. Lafayette, Indiana. She specialized working with the adult neurogenic population with cognitive-communicative and swallowing disorders. Indira worked with former Congresswoman Gabrielle Giffords after she suffered head trauma from a gunshot wound at a Congresswoman on your Corner event on Jan 8, 2011. In addition to being involved in various research projects in her profession, she worked at MD Anderson Cancer Center in Houston assessing and treating cancer patients, often post craniotomy surgeries.
During her husband Andrew Feustel's 6 ½ month mission to the International Space Station, Indira utilized her communication skills to focus on science advocacy. Groups she collaborated with include McGill University, Queen's University, Purdue University, Wimbledon, Roots Canada, Peace by Chocolate, Hatley and the American Heart Association. She currently works with Purdue University as a Presidential Ambassador and an Executive through the Executive in Residence program. Indira is most proud of being a mother and raising her two sons, Ari (an F35C fighter pilot with the US Navy) and Aden (Medical Doctor and 1st year Resident in Physical Medicine and Rehabilitation). For the past 23 years, Indira, along with her sons, have been active participants in family support and public relations within the NASA human space flight program. 
"We have a unique, behind the scenes perspective on what it takes to successfully support launches, landings, and everything in-between for our astronaut, husband and father, Andrew Jay Feustel—for the benefit of humankind. It is most definitely a team effort." — Indira Bhatnagar Feustel