RCGS Ambassador: Lynn Moorman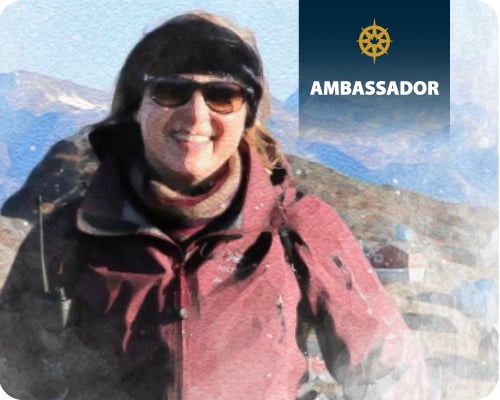 Lynn Moorman is a lifelong geographer who has always loved exploring remote landscapes and environments. Today she shares that passion as an avid educator and volunteer. Lynn is a Professor in the Department of Earth and Environmental Sciences at Mount Royal University, in Calgary, Canada.  Her teaching and research interests lie at the intersection of geography, learning sciences, and applied visualization technologies, including virtual and augmented reality. 
Lynn's work has taken her to the highlands of northern Vietnam, to map agricultural productivity, to the frozen Arctic Ocean where she works with Inuit in Canadian Arctic communities to use near-real time satellite imagery to keep ice travel safe. As an expedition staff with Adventure Canada, Lynn also regularly explores Canadian and European Arctic landscapes and communities.
Lynn contributes to national and international geography education organizations including Canadian Geographic Education, National Geographic, the International Geography Olympiad (iGeo), and is a Canadian representative for the International Commission on Geographic Education. She conducts numerous invited presentations and keynotes around the world about geography and geographical education, and is a Fellow, former Board member, and current Chair of the Research Committee of the RCGS. 
Lynn recently received her university's Distinguished Faculty Award, a Research Recognition Award, the Canadian Association of Geographers (CAG) President's Award and is the 2022 recipient of the CAG National Teaching Excellence Award. When not on a ship or in the classroom, Lynn can be found travelling the world in pursuit of more geographic knowledge and great experiences!