Highlights of Bolivia with George Kourounis

Departing June 16, 2023
Bolivia is a quintessential South American country both in terms of the immensity of its landscapes and its strong indigenous culture. Amboró National Park boasts almost unparalleled biodiversity and the charming gateway town of Samaipata gives access to the nearby Pre-Columbian UNESCO site of El Fuerte.  Gaze at the incredible salt flats of Salar de Uyuni, the largest on the planet! This exciting journey is a comprehensive three-day 4WD adventure that reveals Bolivia's eye-catching multi-colored lagoons, cacti islands, and spouting geysers. In stark contrast to the incredible nature, visit the vibrant cities of Sucre, Potosi, and La Paz whose history and culture run deep with the Incas and the Spanish Conquistadores. To finish your adventure wind down with a night in an eco-lodge on the Isla del Sol overlooking the deep, tranquil waters of Lake Titicaca – surrounded by snow-capped peaks of the Cordillera Real.
Your RCGS Travel Ambassador on this trip is George Kourounis, renowned National Geographic explorer, filmmaker, photographer, TV personality, daredevil, and Chapter Chair of the Explorers Club. Whether it's swapping travel and expedition stories from across the globe, learning about Kourounis' thrilling adventures and expeditions, or gaining tips and training on photography techniques this epic adventurer will be there every step of the journey to share his expertise.
Meet your RCGS Travel Ambassador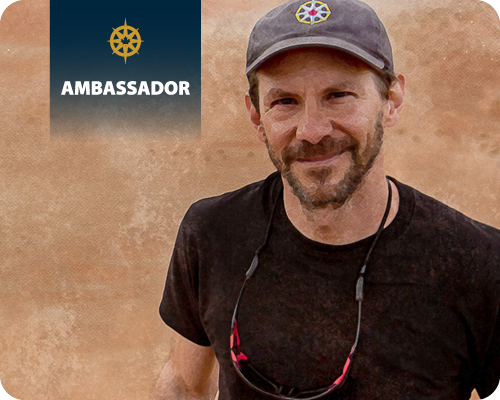 George Kourounis
George Kourounis has a passion for the world's extremes. As an explorer, storm chaser, TV presenter, and Explorer-In-Residence for the RCGS, he's travelled to over 75 countries on all 7 continents to document extreme forces of nature so that others can appreciate the power of Mother Nature's temper tantrums.  For 25 years he has chased tornadoes on the Great Plains, driven into the eye of hurricanes along the Gulf Coast, rappelled deep in the crater of active volcanoes in the Congo & South Pacific, climbed mountains in North Korea, and earned a Guinness World Record for become the first person to set foot at the bottom of the Darvaza flaming gas crater in Turkmenistan while leading an expedition for National Geographic.
Best known for hosting 50 episodes of his own globe-trotting TV series "Angry Planet", Kourounis is also a regular on The Science Channel, The Weather Network and countless other networks & video platforms.
"I think that sustainable travel is an integral tool in promoting conservation. We are only interested in preserving things that we are care about… And we only care about things that we are exposed to. By visiting a rain forest, a coral reef, or a mountain glacier, we personally connect with the landscapes and wildlife we encounter there and that can create an emotional bond that we keep with us our entire lives."