In this post, we share our learnings around heat pumps, geothermal, and energy grant programs. We introduce you to Thelma, the Smart Thermostat Wizard!  
Heating is a big opportunity for emissions reduction
Emissions from heating from homes in Canada represents 16% of total emissions! Next to transportation, heating represents one of the most significant opportunities for household emissions reduction. As per the NRGUIDE energy audit recommendations, we're excited to be moving forward with getting a heat pump and insulating our main walls! We're also considering shifting from gas-powered boiled and waters tanks to electric boilers and electric water tank, as well as geothermal or solar panels.  
Low-cost solution: Smart Thermostats
One relatively low-cost way to reduce heating in our homes is smart thermostats. One of my favourite resources is Project Drawdown which links climate science with concrete actions people can take. It also helps to quantify the amount of greenhouse gas emissions reductions for various solutions. Overall smart thermostats save 10-15% of energy needs.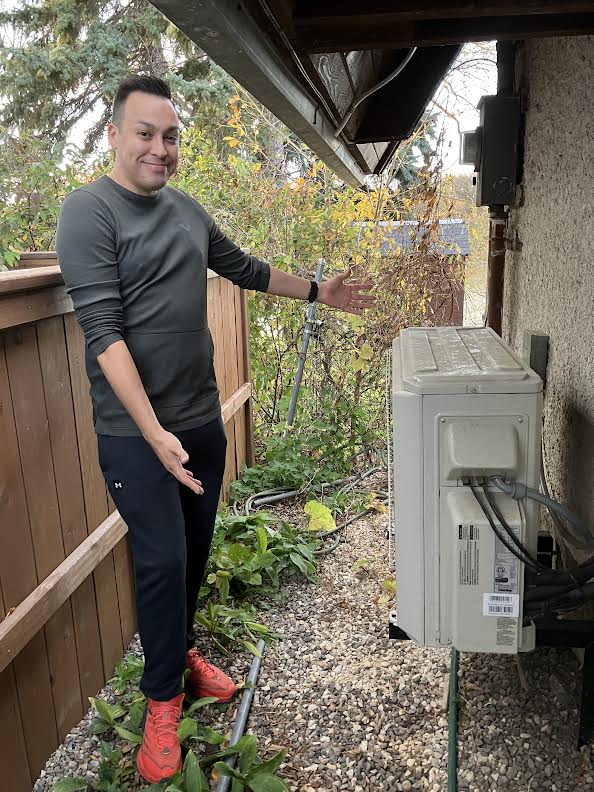 Heat pumps: a great way to reduce household greenhouse gas emissions  
We are so excited to be getting a heat pump! A big thank you to our friends Hanwakan and Tessa who shared with us their positive experience with a heat pump. We connected with Reliance and have put a down payment on an cold climate air-source heat pump which will replace our existing air conditioning units. This was the #1 recommendation on both our NRGuide energy audit and our Lightspark audit.
This Ontario Clean Air Alliance report explains that for the average home, a switch from gas to electric heat pumps powered with zero-carbon electricity will reduce greenhouse gas pollution by 4.7 tonnes per year. This is equivalent to taking off 1.4 fuel-burning cars from the road! It would likely be slightly less for us because we will still need a back-up heat source for when it reaches very cold temperatures in Manitoba, for example of -30 and below. For now, we still have a gas-powered boiler, though longer term we are looking at switching to an electric boiler or geothermal. Heat pumps are an important part of emissions reduction because they use electricity efficiently to heat and cool, while also helping to replace fossil fuels. As Efficiency Canada explains in this heat pump myth buster, air source heat pumps can reduce electricity for space  heating by at least 50% compared to other systems heating.
Economics of heat pumps for our home
For us, it made sense economically to get a heat pump. We looked at getting an electric boiler, and we may go this route in the future in concert with our heat pump. By getting a heat pump, we are going mostly off gas, while also lowering the amount of energy we use, and lowering our monthly heating bills.
Geothermal is very energy efficient 
We are also looking into the potential of installing a geothermal system (ground source heat pump) which is very energy efficient. We've heard that geothermal is most cost effective when it's a larger system (i.e. geothermal heats the Forks, IKEA), or for a neighbourhood which connects to a loop. For our yard, the quote was $30,000-$40,000. Geothermal works just as well for a smaller, versus a larger system. By consulting Southern Comfort Mechanical who installs geothermal, we realized geothermal won't work for our home as we do not have ducts, and we would need to ducts for them to install geothermal. Upgrading to ducts would be a big process, so we've decided to move forward with the ductless air-source heat pump. Geothermal is an excellent choice for some homes, such as the Shannon family who are part of this challenge.
One issue I've heard about geothermal is mildew within the system. Southern Comfort Mechanical explained that this is unusual and they haven't experienced this with over 14 years with geothermal. This could have occurred around piping. Like almost any system such as furnaces, it requires regular, yearly maintenance to clean the system. Yearly maintenance is likely to avoid any of these types of issues and ensure smooth operation of the system.  
Grants and Supports
The total cost for the heat pump is estimated at $19,042. We're applying to to Efficiency Manitoba for supports to pay for the heat pump. For the Greener Homes Grant (Up to $5000 for Cold Climate Air Source Heat Pumps), we made an initial application and registered for the Greener Homes Grant. It looks like the next step is to complete the installation and keep all receipts. Once we've completed the work: "Your next step is to schedule and complete a post-retrofit EnerGuide evaluation to measure the impact of your improvements. We've already let your service organization (prairieHOUSE Performance Inc) know that you're ready for this evaluation." For households who are at or below the median household income after tax, you are eligible for the Oil to Heat Pump affordability program to receive $10,000 to switch from gas to new, cold climate energy-efficient heat pumps.
We're applying to the Canada Greener Homes loan to access up to $25,000 for the heat pump and insulating our main walls. We're applying to Efficiency Manitoba through their Home Energy Retrofit Program, An important thing to remember with their program is not to start work until you've applied and received a confirmation email.  We're also planning to apply for the Windows and Doors rebate. You need the specific brand and size of windows in order to be eligible.  
Thanks for your continued interest in climate friendly living!