Check out our top 5 tips to stop heat loss: think bicycle tire, home energy audit, notice drafts and spiderwebs, light switch insulators & insulation. 
Tip 1 – Bicycle tire comparison 
Have you ever tried riding a bicycle with a flat tire? It takes so much energy! It's similar with the home envelope. When our homes have air leaks, it takes more energy to heat/cool our homes. By increasing the seal of our home through things like insulation, it can help reduce heat loss, and therefore less energy costs and emissions. Learning about this concept has been eye opening for us! 
Tip 2 – Get a home energy audit
For anyone looking to improve your home's envelope and carbon efficiency, this is our primary recommendation to you.  This will help you identify primary sources of air leaks in your home envelope and provide in depth detail on what you can do to improve your home's seal.  Plus for anyone who is hoping to fund their projects with the support of government grants/loans programs, this helps identify projects eligible for funding. 
 Tip 3 – Drafts and spiderwebs 
The first place to start when trying to assess how to improve your home envelope is to find out where air is leaking out.  Check around the house for where air might be getting in.  Windows, attics, basements, crawl spaces, are all great spots.  Spiderwebs or dirt are good signs of air getting in, so keep your eyes out for these to identify prime places to improve your home envelope.  Once you identify spots, caulking and peel-and-stick weather stripping are fairly inexpensive options you can use to help improve your seal, just be sure to measure and buy the right size to avoid an extra trip to the store. 
Tip 4 – Light Switches/Electric outlets
When we had the blower door test done one of the more surprising discoveries to us was air leakage from light switch/electrical outlet panels.  Our great advisor Andrew from Prairie House Performance gave us some great advice on how to quickly insulate these spots.  For $30.00, we bought a pack of 15 insulators that easily fit behind the panel of the wall. They were super easy to install! Quick, cheap and easy fix to help improve the home envelope.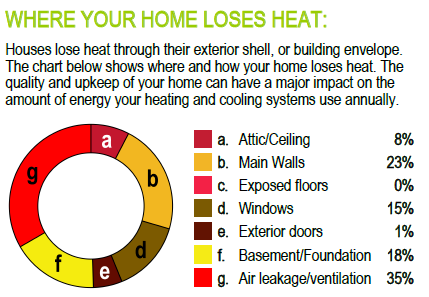 Tip 5 – Go for the big fish 
Focus on the things that will have the biggest impact for reducing heat loss. For us, one of the top 3 recommendations was insulating the main walls as this was one of the areas most responsible for heat loss, with 23% of heat loss coming from the main walls. We've hired a contractor who will be insulating our walls in December.  This could reduce our energy consumption by 13 gigajoules, and we're still figuring out the GHG emissions reductions of our home envelope activities. We will keep you posted as we learn more. Thanks for your interest in reducing heat loss!