It is September 30th today, Canada's National Day for Truth and Reconciliation and Orange shirt day. I am a Grade 4 teacher, and we spent time this week learning about residential schools and the abuse Indigenous children suffered. As a class, we read I am Not a Number, watched a live interview with documentary filmmaker Alanis Obomsawin, and then the documentary she directed (entitled "Honourable Sinclair", about Murray Sinclair). We also participated in an assembly and walk led by Indigenous members of our school community. It is emotionally difficult and important learning for everyone.  It also is a reminder of how Indigenous peoples have been stewards of the earth and have ways of living that are harmonious and not destructive.  In this time of climate change we should be both honouring and learning from them.
I have the great privilege of living in the house that I grew up in, and on a beautiful spot of land near the Dundas Valley Conservation Area. I see it as a responsibility and opportunity to care for that piece of land, and the home in which we live. To learn more about how to do this, I recently attended a workshop organized by Green Venture Hamilton with former Hamilton city councilor Dave Braden. Dave is Hamilton's guru of home efficiency and design.
I learned some interesting facts: 
Air leakage through cracks in the home envelope is a huge issue. Half of the heat in an average home is lost to the outside in an hour through cracks in a home (this information is from the National Research Council).
If you add up all of the leaks in an average home, it equals between 1 square foot and 4 square feet. This is like having a window open all winter long. We are heating the outdoors and wasting a great deal of energy.
Before insulating your home you should find and seal the leaks. There are many economical ways to do this. 
The results of our energuide audit were informative, and not surprising. We are using 130 gigajoules of energy in our home each year – the orange zone! If we improve the air tightness of our home by 74%, we could reduce the energy consumption by 20 gigajoules of energy. I am still learning what a gigajoule of energy means in terms of carbon, but one gigajoule equals the energy from two BBQ propane tanks.  We are therefore wasting the equivalent of 10 BBQ propane tanks of energy each year.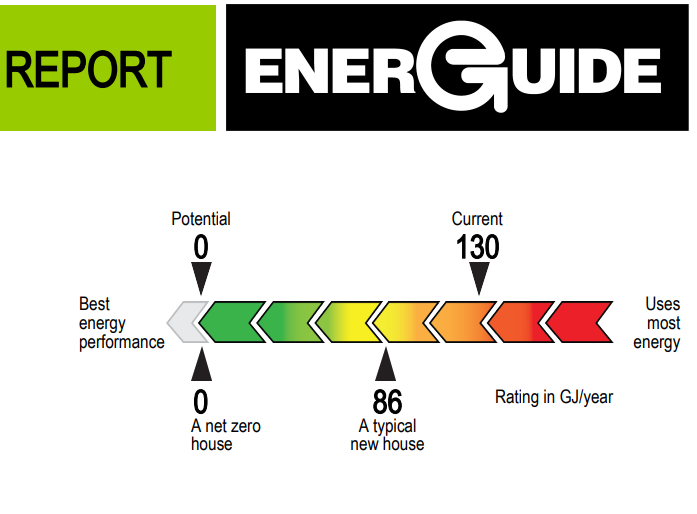 This information is both enlightening and empowering. Data is informative and will guide our work. Addressing this leakage will help us reduce our emissions and move towards a net zero life, and this is extremely attainable. In my opinion, ensuring our home is not wasting energy is one way to be a responsible custodian of the land and earth.
~ Jen