Our family sold the car and converted to bikes 4 years ago (with the occasional public transit, Uber, or rental car for inclement weather or a trip out of town), and have loved the freedom, the exercise, the connections to nature/community, and the extra dollars in the pocket.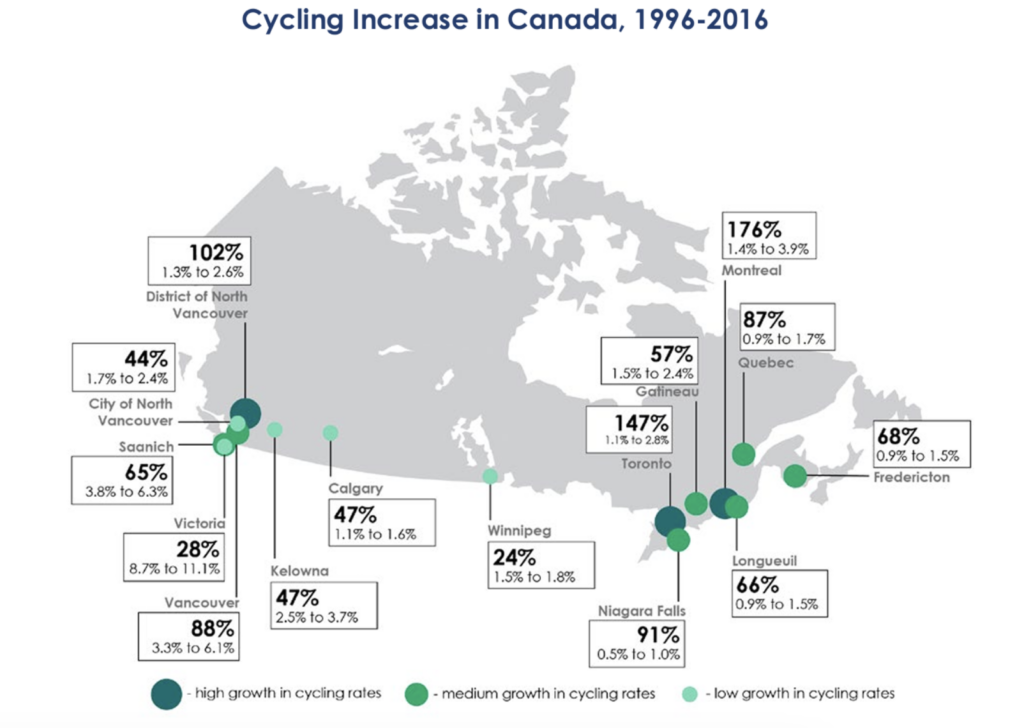 When we talk to folks about what's holding them back, the most frequent answer is around safety. This is a super-important point, and it is critical that our cities continue to invest in safe infrastructure so that everyone (especially kids) feel safe. Amazing things are happening across Canada on this front with Montreal being #1 in North America, Saskatoon is being a real leader, along with many others. And with basic safety infrastructure, which is to the advantage of drivers, cyclists and everyone really, ridership is increasing (image from the Center for Active Transportation).
People do have other secondary concerns beyond safety though: Wont it take too long to get there? How do I carry groceries, etc?  Won't my bike get stolen?  Good questions! So lets talk about them 🙂
Doesn't it take too long to get places?
50% of all Canadian car trips are less than 5km, and, at that distance, transit time by bike or car is probably about the same – depending on parking or traffic.  For any trip longer than 10-15km, a car (or train) will definitely be faster and/or necessary for most people.  In between those 2 distances, however, it really depends on traffic, weather, routes, etc. That said, it will be a very reasonable distance to cover for most people, it'll get you some fresh air and energy, and, really, does it matter if it takes you 10-15 minutes longer?  We can often be amazed at how fast the bike goes since it's such a nice way to move (see video below), and even just switching out those short trips on nice days can mean needing one less car!
How do I carry things?
Bikes have great solutions (pannier bags, rat traps, baskets) for the simple, everyday loads needed to get to work, school, etc.  If you are interested in a solution for getting to the shops though, a cargo bike can be amazing, especially with pedal assist if you want to avoid struggling on hills or in the heat. Not only is it a great way to move kids around when they're young, its a lifelong solution for those shorter trips in the neighbourhood to pick groceries, small hardware, etc, and they can carry an astounding amount (see video below).  Unfortunately, they can be expensive (we were lucky to get our second-hand, but they are hot commodities that retain value), so some thought will need  to go into a purchase – but maybe it makes sense if you can sell that second car!
What if my bike gets stolen?
Of course bikes can get stolen and this can be a deterrent – although car thieves are also having a really successful run in Canada these last few years (vehicle theft reaches crisis levels)! A good lock is a must, but we also need places to lock up to. However, bike racks / lock-ups are not expensive, and they are easy wins for the city and for businesses to get more people into their shops. If you're missing one for one of the places you visit often, then call the city or the local Business Improvement Area, and you might find one there much sooner than you think…
Final thoughts
Cars are essential to many of our lives, given Canada's geography and existing infrastructure.  HOWEVER, they are REALLY expensive in dollars (on average, Canadians pay 1,100$/mo per car) and in carbon costs.  For those on a budget like us, it makes really good sense to try to convert to cycling on as many trips as possible and reduce the need/use for cars.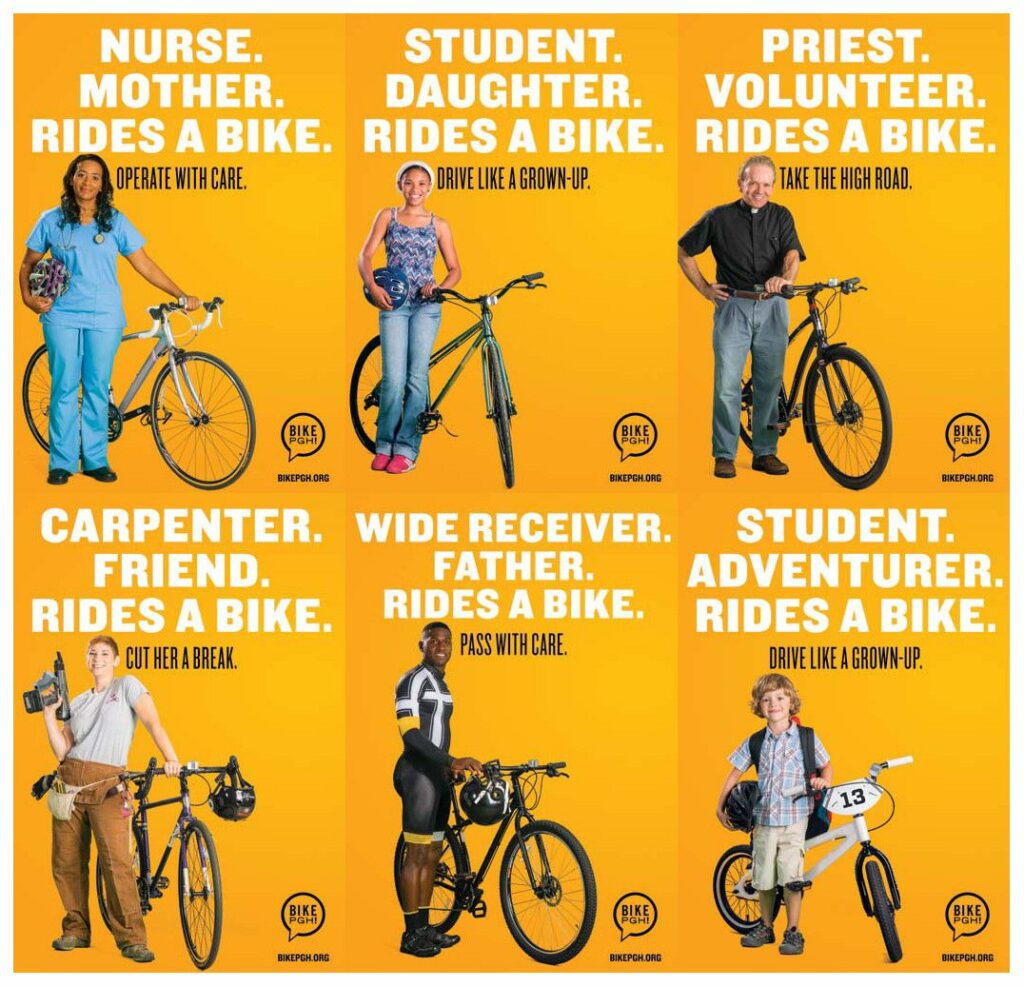 Finally, many people think that only certain "types" cycle – risk-takers, macho men, etc. But just try it – you don't need to be "a cyclist" to ride and enjoy a bike (image from Bike Pittsburgh) – and for most, once they experience the freedom and advantages, they just don't go back.  
Happy Cycling!