As a mother, I always prioritize my kids' needs and wants above my own, so spending thousands of dollars on an electric bike seemed like an extravagance. I'd rather spend my disposable income on my children's education, fun activities, and treats from the store, while I continue to wear old, paint-stained t-shirts from years ago. However, everything changed when gas prices skyrocketed, and my concerns about sustainability led me to look for an electric car. Suddenly, the idea of purchasing an e-bike became a more reasonable option. Of course, it wasn't easy, and I wish I knew about these funding options when I first bought mine.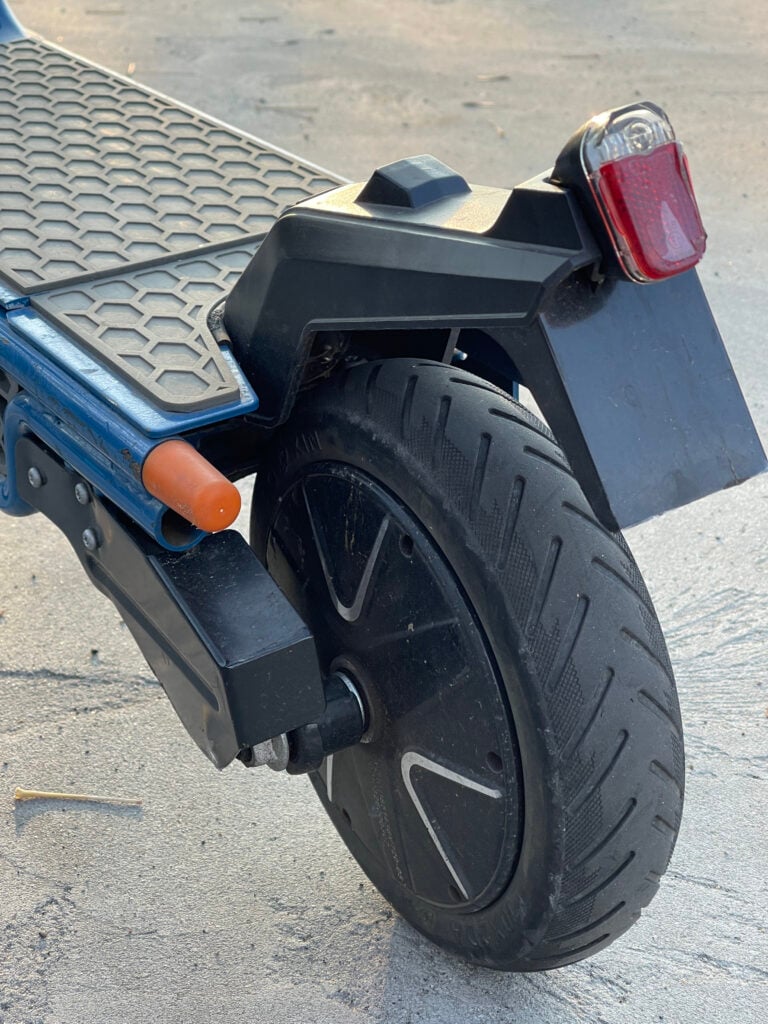 "Comparing Micro Mobility: Factors to Consider"
Electric bikes and electric scooters are two popular modes of e-transport that have become increasingly popular in recent years. While both provide a convenient and environmentally-friendly alternative to traditional modes of transportation, there are some key differences between the two.
Electric bikes and electric scooters are both popular modes of e-transport that offer convenience and eco-friendliness as alternatives to traditional transportation. However, there are differences between the two.
Electric bikes generally offer higher performance in terms of top speed and range compared to electric scooters, making them a better option for longer distances and steeper terrain. However, electric bikes tend to be more expensive, with prices ranging from $500 to $5,000 or more depending on brand and features.
Electric scooters tend to be lighter and more compact, which makes them simpler to store and transport. The price of electric scooters can vary significantly, ranging from $200 to $2,000 or even more.
Overall, both electric bikes and electric scooters offer a convenient and eco-friendly mode of transportation. When deciding which one to purchase, it's important to consider factors such as cost, performance, and the specific needs of the rider.
BC Promoting Active Transportation: PST exemption for most bikes
The province of British Columbia has made a significant change by eliminating PST on the majority of bikes. This brings the taxation of electric bicycles and tricycles in line with that of all other bicycles. The goal is to promote active transportation options and make bikes more accessible to everyone.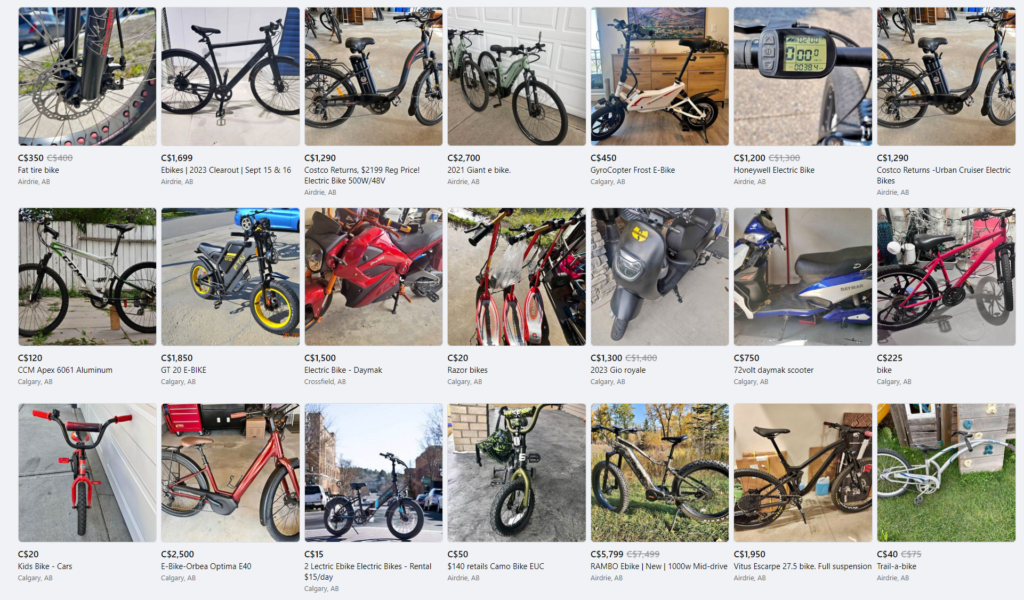 Buy Used
Purchasing an e-bike or e-scooter used from online classifieds like Facebook Marketplace, Kijiji, or VarageSale can save you a significant amount of money. These platforms provide an opportunity to buy gently used electric bikes and scooters at a fraction of the cost of a brand new one. In addition, many sellers are willing to negotiate the price, allowing you to save even more. However, it's important to ensure that you're buying from a reputable seller and that the bike or scooter is in good condition before making a purchase.
Always remember your saftey best practices when purchasing from an online seller; meet in a public place, bringing a friend or family member, and letting someone know where you are going and when you expect to return. If the deal is too good to be true, it probably is – protect yourself from scammers!
Financing
When it comes to buying an e-bike, financing options can be a great way to make the purchase more manageable. Many retailers and e-bike companies offer financing options directly to their customers. Take RAD power bikes for example who offer a wide range of commuter, off road and cargo e bikes. They offer a financing with Affirm. This is a popular financing option that allows customers to split up the cost of their purchase into smaller, more manageable payments over time. This can be a great option for those who want to get an e-bike but don't have the funds to pay for it all at once. It's important to carefully consider the terms and conditions of any financing option before signing up, but for many people, financing can be a smart way to make an e-bike purchase more affordable.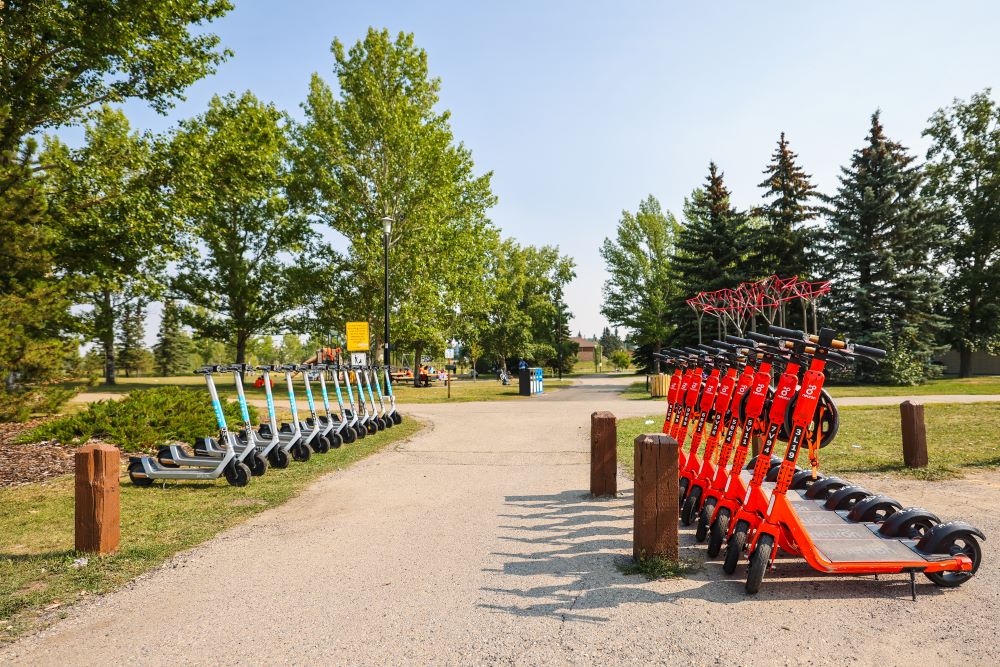 Shared Micro mobility
Shared micro-mobility refers to the use of small, electric vehicles that are shared among multiple users. These vehicles can include electric scooters, bicycles and even small electric cars. In my town we have companies like BIRD and NEURON for electric scooters, and in nearby downtown Calgary we have Communauto for whole car sharing solutions. The benefits of shared micro-mobility are numerous, including reduced traffic congestion, lower emissions, and increased mobility for people who may not have access to their own vehicles. Additionally, shared micro-mobility can be a more cost-effective transportation option for consumers, as they only pay for the time they use the vehicle. In general, the cost of shared micro-mobility varies depending on the city and the specific vehicle being used, but consumers can expect to pay anywhere from a few cents to a few dollars per minute.
Rebates and Grants!
SCRAP-IT Alberta:
The SCRAP-IT rebate program is an initiative aimed at encouraging Albertans to replace their old vehicles with e-bikes. Receive $500 from SCRAP-IT when you purchase your new electric bike (minimum retail price of $1,000) from a Participating Electric Bike Retailer when you scrap your old vehicle.
To be eligible for the SCRAP-IT rebate program, your old vehicle must be at least 12 years old and in drivable condition. The program accepts cars, light-duty trucks, and SUVs.
Find more information here:
https://scrapit.ca/ab/
SCRAP-IT BC:
Similarly our neighbors to the west in B.C. also has a SCRAP-IT program in partnership with CLEAN BC. BC SCRAP-IT Program has an e-bike rebate for $750.
Alternatively you can receive a
various TRANSLINK PASS
An 11 month ECOPASS ($935 value) valid on the Victoria Regional transit System.
A $500 car share credit with select car share organizations.
CLEAN BC Rebates
Clean BC also offers a variety of rebate options for electric vehicle purchases or leases as well as ones specifically for Neighborhood Zero-Emission Vehicles (i.e. E-bikes). The details are extensive depending on which option your looking for so I will leave the link here:
https://www.goelectricotherrebates.ca/rebate
Banff Residents:
The Town of Banff offers financial rebates to residents who wish to conserve water and energy, as well as promote environmentally-friendly transportation options.
The ebike program gives a 50% rebate on qualifying e-bikes up to a maximum of $500-$1000 depending on your residency.
To find out more information about the Banff e-bike and environmental rebates see this link:
https://banff.ca/701/Residential-Rebates
Yukon
Yukon residents can receive a 25% rebate on qualifying e-bikes from a Canadian business up to a maximum of $750 or $1500 for new electric cargo bicycle.
https://yukon.ca/en/driving-and-transportation/apply-rebate-when-you-buy-new-electric-bicycle
Thompson Rivers University Employee E-bike Discounts
TRU offers incentives for eligible employees to purchase e-bikes, including discounts of up to 10% off the purchase value (up to $300) and financing options with a repayment period of up to two years. Permanent full-time staff and contract employees are eligible, with financing available up to the end of their contract term. TRU also provides seasonal commuter parking permits to cyclists for parking in either economy or general lots from November 15th to March 15th.
More info here:
https://www.tru.ca/transportation/cycling.html#:~:text=The%20TRU%20Employee%20E%2DBike,bike%2C%20up%20to%20%24300%20total.
Nelson E-Bike Program
The Nelson E-Bike Program is aimed at Nelson homeowners who are interested in purchasing a commuter bike, including electric bikes, non-electric bikes, do-it-yourself conversion kits, and commuting-related accessories. The program offers low-interest financing that is applied monthly to the homeowner's Nelson Hydro electric bill. The loan can be repaid over two or five years, with an interest rate of 3.5% (which may fluctuate annually). The program permits households to borrow up to $8,000, which can be used to purchase more than one bike. This opportunity is available to City of Nelson residents who own their own homes.
http://www.nelson.ca/824/E-Bike-Program
Electrify Nova Scotia
The Electrify Rebate Program in Nova Scotia provides a $500 rebate for the purchase of qualifying e-bikes from dealerships and retailers located in Nova Scotia. The e-bikes must have a retail price of $1,200 or over and the rebate must be applied at the time of purchase from the dealership. The rebate does not apply to used e-bikes or e-bikes purchased from third-party online retailers, e-bike makers, or individual private sellers.
https://evassist.ca/rebates/
Prince Edward Island E-Bike Incentive
The Government of Prince Edward Island is offering a $500 rebate for eligible Islanders and organizations who purchase an e-Bike. Eligible e-Bikes must retail for $1,200 or more, have a maximum speed of 32 km/h, an electric motor of 500 watts or less, two or three wheels that touch the ground, a maximum weight of 120kg, and meet all other regulations as set out by the Highway Safety Act. Island residents are eligible for one rebate per calendar year, while non-profits, businesses, public agencies, or any entity operating or registered in PEI can receive up to five rebates per calendar year. Some retailers in PEI offer a Point-of-Sale Incentive, while others allow customers to apply for the rebate post-purchase.
https://www.princeedwardisland.ca/en/service/e-bike-incentive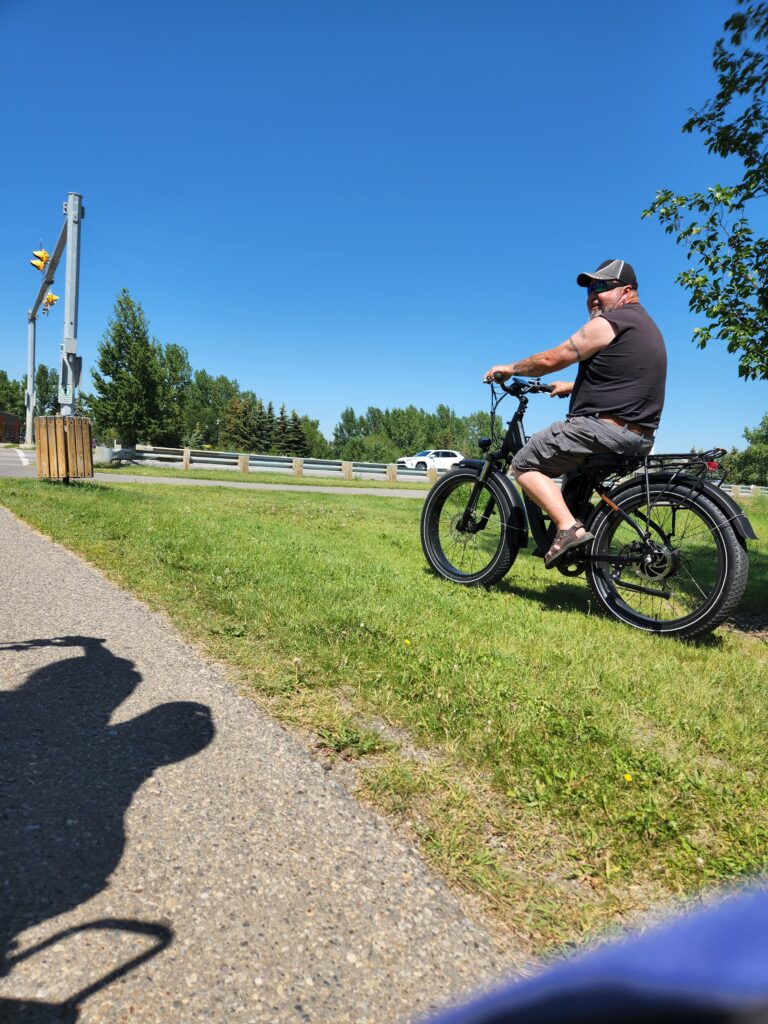 E-bike Conversion kits
If you already own a bike that you love and are not quite ready to replace it with a new e-bike, there are still plenty of options available to for those that are handy with a DIY approach. One of the most popular options is to purchase an e-bike conversion kit. These kits allow you to convert your existing bike into an electric bike, giving you the best of both worlds. With an e-bike conversion kit, you can enjoy the benefits of an electric bike without having to give up your current bike. Plus, these kits are often much more affordable than purchasing a brand new e-bike. So if you're looking to upgrade your ride, but aren't quite ready to say goodbye to your current bike, an e-bike conversion kit might just be the perfect solution for you.