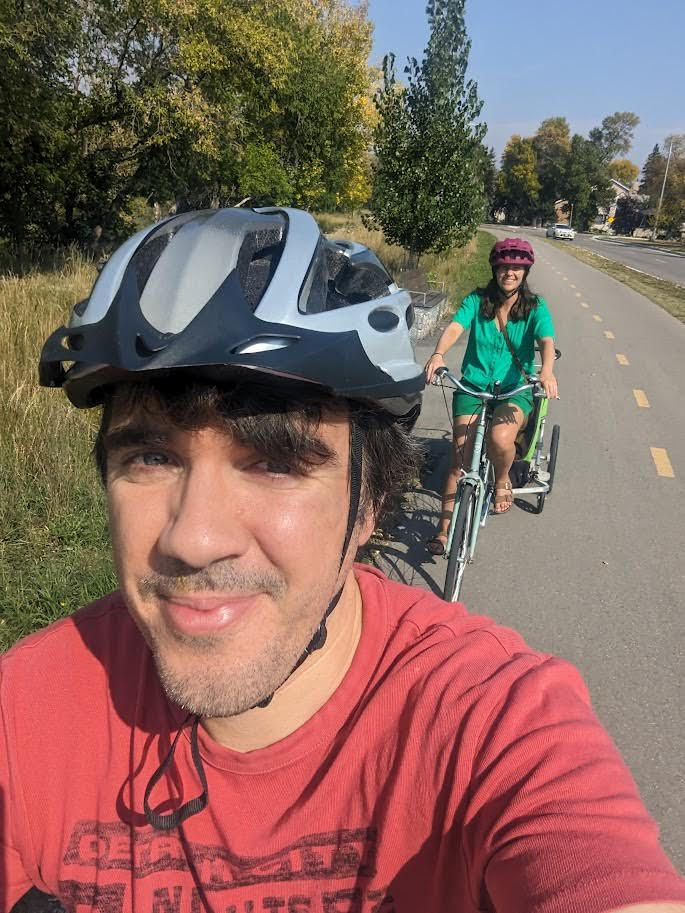 Transportation = a huge opportunity for household emission reductions 
Carbon emissions from car transportation is the second-largest contributor to emissions in Canada, making up a whopping 28% of Canada's total greenhouse gas emissions (Government of Canada, 2023). The average gas powered vehicle ends up emitting about 4.6 tons of carbon every year, so finding alternative solutions to driving, reducing the amount we drive, and electrifying transport is critical to helping reduce emissions in Canada.  
Walk, bike, and sometimes drive 
Our family mapped out our transportation needs to get to work, Fia to day care and other activities, to bike/walk as much as we can. There's no more affordable way to reduce transport emissions than good-old leg power (plus it helps keep us in shape so we can keep up with baby Fia as she is now running). Kari even biked to work in the rain! Thanks to a great Winnipeg bike shop, Plain Bicycle, we tested out a cargo bike for grocery shopping, and despite needing a couple blocks to adjust for the giant cart in the front, it worked smoothly.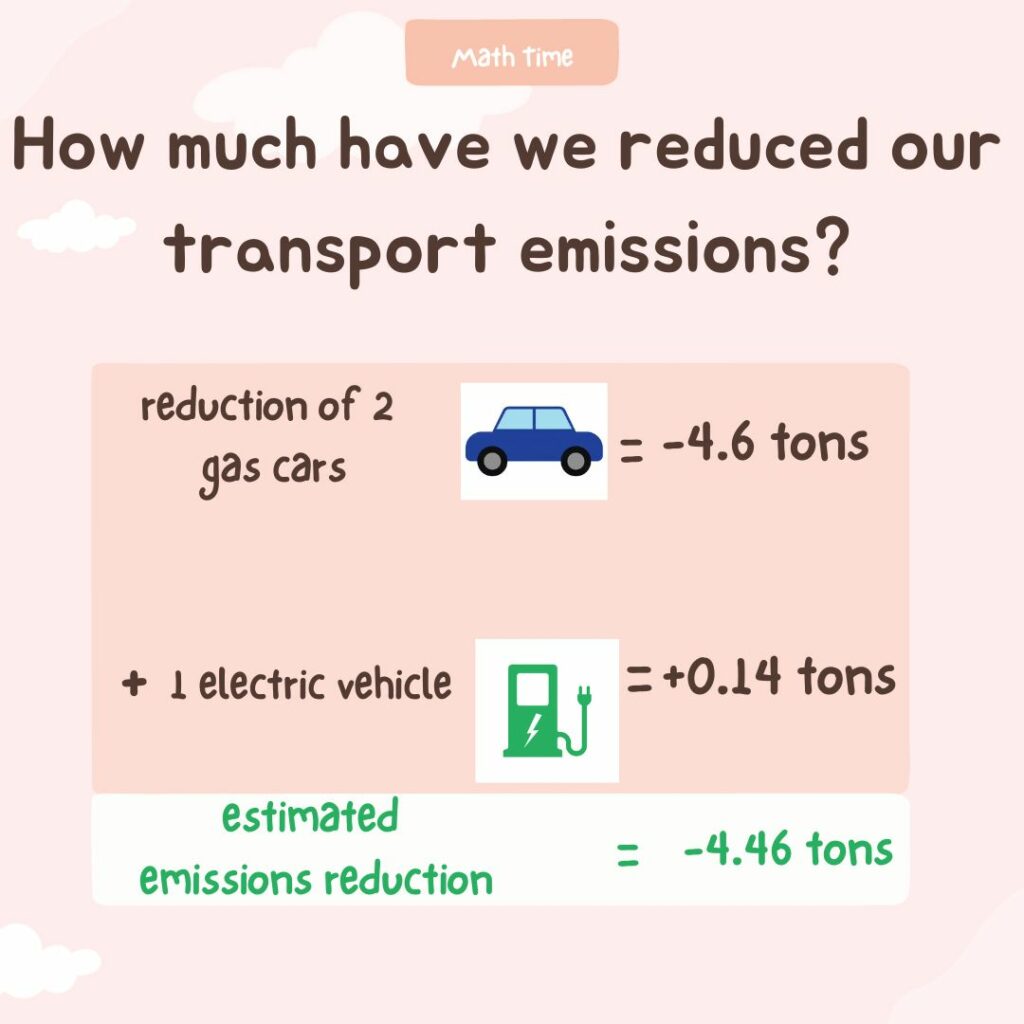 2-gas powered vehicles to 1 electric = significant emissions reductions 
Brigette, Kari and Fia had been saving up to buy an electric vehicle, and thanks to selling their gas-powered car and the Zero-Emission Vehicles (iZEV) Program incentive, they transitioned from 2 gas powered vehicles to a single electric car resulting in annual emissions reductions of about 4.46 tons. This is significant given that the average footprint for people in Canada is about 15 tons (much higher than the global average btw).
Want to know the math? An average gas powered vehicle is about 4.6 tons annually. We don't drive that much, likely about half the average, so we figure the emissions from our cars was about 2.3 tons each for a total of 4.6. In Manitoba, the electricity is about 97% emissions free, so we estimate our EV use coming in at about 0.14 tons per year with both of us driving when needed (0.03% of 4.6). Minus 4.6 tons plus 0.14 tons = estimated reduction of 4.46 tons of greenhouse gas emissions.
A big thank you to our community 
We're so grateful to our community for your support through this challenge! A big thank you to Global News, Loran Scholars Network, and friends who have liked and shared our story! We want to say a big thank you to the many environmental organizations in Winnipeg, Treaty 1 Territory, who work so hard to advance sustainable transport and climate action!
Systems and policy change 
We enjoyed the opportunity to cycle to the global day of climate action on September 15. In order to transition to a climate-safe future for all and meet our national and global emissions targets, it's critical that we work towards policy changes. We need policies that move us away from fossil fuels to equitable clean energy, and towards making a good quality of life and climate action affordable for everyone. 
The two weeks of the commuting challenge flew by and it's been lots of fun taking part in the DePape-Rodrigues Household. Learn more about our commuting challenge and follow us as we continue to the next challenge!